Here's MAGA Part 3, Don Surber's masterful account of 2017, theyear thatmadegreat again…
March 1: "Coal mining begins seeing revival as Trump gives industry hope."
Those jobs ain't coming back.
GOOD.
March 2: "Two illegal immigrant gang members from El Salvador who had a Satanic shrine in their Houston apartment are suspects in the killing of one teenager and the kidnapping of another, authorities said."
Dreamers? Call them what they are: Nightmares.
EVIL.

March 3: "Juan Thompson, the St. Louis native arrested for making bomb threats against Jewish centers, used to write at left-wing website The Intercept before being fired for fabrication."
Once again, the anti-Semite is a liberal.
EVIL.
March 4: "36,635 dead lose their right to vote in West Virginia."
There go the hopes for a Democratic Party revival in the Mountain State.
GOOD.
March 5: "The Supreme Court on Monday sent a dispute over a Virginia transgender student's bathroom access back to a lower court, without reaching a decision."
How did the federal government become the school bathroom monitor?
EVIL.
March 6: "Trump Praises Exxon Mobil for Plan to Create 45,000 Jobs."
Those jobs ain't coming back.
GOOD.
March 7: "Sales zoom 557% as liberals boycott Ivanka."
Boycott me!
GOOD.
March 8: "Samsung Electronics Co. is planning a major investment to expand its U.S. production facilities, according to people familiar with the matter, with at least five states in discussions. The initial capital investment is expected to be around $300 million, several of the people said, with Samsung shifting some production of oven ranges to the U.S. from Mexico. The move could generate around 500 jobs, those people said."
Those jobs ain't coming back.
GOOD.

March 9: "Poll shows Hillary now 10 points behind Trump."
The polls are catching up with the American people.
GOOD.
March 10: "Jobless claims are at a 44-year low."
Unemployment office hardest hit.
GOOD.
March 11: "Almost 100 California entities are interested in building Trump's border wall."
Guess not everyone wants to Make California Mexican Again.
GOOD.
March 12: "[My son] now does an impression where whenever I'm bothering him he says, Fake News," CNN host Jake Tapper told MTV's Ana Marie Cox.
Kids are smarter than CNN's target audience.
GOOD.
March 13: "Helen Odoeme Agbapuruonwu, wife of millionaire lawyer Fidelis I. Agbapuruonwu, illegally received for food stamps and Medicaid assistance for the last seven years, police said."
They are immigrants from Nigeria.
Public money is like holy water in Washington. Everyone takes some.
EVIL.

March 14: Rachel Maddow scooped the world and got Donald Trump's tax return.
From 2005.
He paid $38 million in taxes — which was 25% of his income.
I thought "Punk'd" was on MTV, not MSNBC.
GOOD.

March 15: Snoop Dogg releases a video showing him shooting the President of the United States.
Kids, just say no to pot.
EVIL.
March 16: "Humpback whales are organizing in huge numbers, and no one knows why."
Have some political pollsters ask them. We still won't know why, but we will have plenty of pretty numbers and charts, and Nate Silver will come around later and explain why Hillary still has a 71% chance of winning.
GOOD.

March 17: The Washington Post reported, "Immigrants are now canceling their food stamps for fear that Trump will deport them."
Helen Odoeme Agbapuruonwu did not get the memo.
GOOD.

March 18: "The global economy enjoys a synchronized upswing. The past decade has been marked by a series of false economic dawns. This time really does feel different."
This time we elected a president who knows what he is doing.
GOOD.
March 19: "Bloomberg listed 19 independent agencies and 61 programs within Cabinet offices that Trump wants to close."
Let's hope those jobs ain't coming back.
GOOD.

March 20: "Hillary fund-raiser busted for cheating workers."
I remember when Disney was a pro-American, law-abiding company. I feel so old now.
EVIL.


March 21: "In an Unprecedented No-Show, the U.S. Pulls Out of Planned Human Rights Hearing."
You mad, bro?
GOOD.

March 22: "Members of the Donald Trump transition team, possibly including Trump himself, were under U.S. government surveillance following November's presidential election, House Intelligence Chairman Devin Nunes (R-Calif.) told reporters Wednesday."
The press immediately demanded that Nunes be kicked off the intelligence committee. I'm serious.
EVIL.


March 23: "FBI Director James Comey is unpopular across the political spectrum, according to a new poll that finds voters have a negative opinion of Comey by a more than two-to-one margin. According to data from a Harvard-Harris Poll survey of registered voters provided exclusively to The Hill, only 17 percent have a favorable view of Comey, compared to 35 percent who have a negative view of him."
Six weeks later, Trump fired him, and Comey became a darling of the Left again.
GOOD.
March 24: CNN's exclusive blockbuster scoop of the ages, "Source: ICE is targeting 'sanctuary cities' with raids."
They go there because that is where the illegal aliens are.
GOOD.
You know who else didn't use a lot of electricity?
Cavemen.
GOOD.

March 26: "An unauthorized immigrant kidnapped  a woman who had been providing him food and water for three days in South Texas, officials said."
If we are going to call an illegal alien an "unauthorized immigrant," then shouldn't we call a kidnapping an "unauthorized sleepover"?
EVIL.
Trump has been using executive orders to tie the hands of rule makers. He put in place a regulatory freeze during his first hours, mandated that two regulations be repealed for every new one that goes on the books and ordered a top-to-bottom review of the government with an eye toward shrinking it.
Any day now, Trump is expected to sign an executive order aimed at undoing Obama's Clean Power Plan and end a moratorium on federal-land coal mining. This would ensure that the U.S. does not meet its commitments under the Paris climate agreement.
The administration is also preparing new executive orders to re-examine all 14 U.S. free trade agreements, including NAFTA, and the president could start to sign some of them this week.
Just thought I would throw that in there amidst the daily doses of Trump not "acting presidential."
GOOD.
North America's Building Trades Unions sent the White House the wish list of 26 projects, including more than $80 billion worth of energy transmission lines, water and wind projects, and pipelines across the country.
More than half of the projects on the list given to Trump aide Stephen Miller are privately financed. All but one are in the midst of permitting and could use the Trump administration's help in the form of regulatory relief.
Using the bureaucracy to get work done instead of blocking it. What a concept!
GOOD.
March 29: From Foreign Policy magazine, "Trump Has a Strategy for Destroying the Islamic State — and It's Working."
Make ISIS JVs Again.
GOOD.
March 30: Julie Davis covers the White House for The New York Times. She tweeted, "Forget those silly pastel/rainbow colors of White House Easter Egg Rolls past; Trump's Easter eggs will be GOLD."
A two-second Google search found Obama, to, offered GOLD Easter eggs.
In December, the Times Washington bureau announced it was hiring a fact-checker.
Yep.
EVIL.
March 31: "Millions of gallons of raw sewage and untreated runoff have poured into the United States' second-largest estuary since a massive sewage treatment plant experienced equipment failures that forced it to stop fully treating Seattle's waste."
Industry cannot compete with government when it comes to polluting. Ain't that right, Animas River?
EVIL.
March total: GOOD 22, EVIL 9.
April 1: "Together, 27 White House officials had assets worth at least $2.3 billion when they joined the administration."
Most of them took pay cuts to serve America.
Meanwhile, Obama signed a $60 million book deal to MOGA — Make Obama Greedy Again.
GOOD.

April 2: The richest man in the world got a taste of his "Democracy Dies in Darkness" politics last night as hundreds of gay protesters hit the streets near his mansion in the Kalorama neighborhood of Washington, which is one of the wealthiest neighborhoods in the world.
They went to protest at Ivanka Trump's home. She and her family were in New York visiting relatives. I trust Bezos enjoyed the disruption.
GOOD.

April 3:
Newt Gingrich, the former House Speaker and presidential candidate, said Sunday that the evidence of collusion with Russia points to Democrats, not Republicans.
"It is ironic that all of the real evidence of real money and real influence-buying relates to Democrats," Gingrich told Fox News' "Sunday Morning Futures with Maria Bartiromo."
Heavy meddle music plays in the background.
GOOD.

April 4: "CNN Had a Problem. Donald Trump Solved It."
Make Corporate Shills For Saddam Hussein Great Again. Sigh.
EVIL.
April 5: "Shia LaBeouf Thriller 'Man Down' Sells Just One Ticket at U.K. Box Office."
Feud with Trump, lose.
GOOD.

April 6: "The United States fired 59 Tomahawk cruise missiles at Syria overnight in response to what it believes was a chemical weapons attack that killed more than 100 people."
President Trump did this over dinner with Chairman Xi at Mar-a-Lago. Ho-Ree Sheet.
GOOD.

April 7: "Judge Neil M. Gorsuch was confirmed by the Senate on Friday to become the 113th justice of the Supreme Court, capping a political brawl that lasted for more than a year and tested constitutional norms inside the Capitol's fraying upper chamber."
Which is better? Liberal tears or Never Trump tears?
Trick question. They are the same.
GOOD.
April 8: "PolitiFact Pulls 2014 'Mostly True' Rating of John Kerry's Claim of Eliminating Syrian Chemical Weapons."
Actually, it said "you can keep your doctor" was true before it voted it Lie of the Year five years later.
EVIL.


April 9: "Dems winning fight over wall."
Five months later, contractors began building prototypes — 30 feet high.
GOOD.

April 10: "The Kremlin said on Monday that U.S. Secretary of State Rex Tillerson will not meet President Vladimir Putin when he visits Moscow on Wednesday, a move that could point to tensions over a U.S. missile attack on a Syrian air base last week."
Don't know which Trump sucks at worse — being Hitler or being Putin's puppet.
GOOD.

April 11: "Bill O'Reilly Is Going on Vacation. Will His Show Return?"
No.
GOOD.

April 12: "The unemployment rate was 4.5 percent in March 2017. The last time the unemployment rate was 4.5 percent was during the first half of 2007."
In three months, Trump did what Obama was unable to do in eight years.
GOOD.


April 13: "The U.S. dropped a bomb with an explosive force equal to 11 tons of TNT on a cave complex used by the Afghanistan branch of the Islamic State of Iraq and Syria on Thursday, the Pentagon said."
The Mother Of All Bombs was dropped on my mother's 93rd birthday.
Winning!
GOOD.
April 14: "Democratic lawmaker on voucher-bill sponsor: 'I wanted to punch her in the throat'."
The Democratic Party's war on women continues.
EVIL.
April 15: Democrats celebrate Tax Day.
Republicans mourn.
EVIL.

April 16: "Immigration arrests rose 32.6 percent in the first weeks of the Trump administration, with newly empowered federal agents intensifying their pursuit of not just undocumented immigrants with criminal records, but also thousands of illegal immigrants who have been otherwise law-abiding."
Otherwise law-abiding bank robbers have the same complaint.
GOOD.

April 17: "Kellyanne Conway on Monday chalked up a fresh wave of protests directed at President Donald Trump over the weekend, some of which turned violent, as attempts by stubborn liberals to relitigate last year's presidential election. It should fall to the leaders of the Democratic Party, the counselor to the president said, to quell the violence that has marred some anti-Trump demonstrations."
Marred some? Ah, Politico — the Democratic Party ho.
EVIL.
April 18: "First protected DREAMer is deported under Trump."
His amnesty had expired in August 2015. He was caught trying to re-enter the United States.
But otherwise, he is law abiding.
GOOD.

April 19: "An illegal immigrant, along with another man, is accused of kidnapping and repeatedly raping a woman with autism while holding her against her will."
But otherwise, he is law abiding.
EVIL.

April 20: "CNN: 'Sources: US prepares charges to seek arrest of WikiLeaks' Julian Assange.'"
Never happened.
Sources? When you stop taking the meds, the voices in your head return.
EVIL.

April 21: "Second parchment copy of Declaration of Independence found — in England."
Well, that was where the Founding Fathers sent the letter.
GOOD.
April 22: "President Trump will hold a rally in Pennsylvania the night of the White House Correspondents Dinner, he said Saturday."
His show had better jokes.
GOOD.
April 23: "The proposed wall along the U.S.-Mexico border could be paid for by reducing erroneously issued tax credits that go to "mostly Mexicans," said Attorney General Jeff Sessions on Sunday."
Erroneously paid? That's how it was set up.
GOOD.
April 24: "El Chapo Complains About Conditions at Manhattan Jail."
People in hell want ice water.
GOOD.

April 25: "Senator Ted Cruz wants to use assets seized from drug lords such as El Chapo, the Mexican kingpin who was recently extradited to the U.S., to pay for border security and the border wall."
$14 billion. El Chapo was richer than Trump.
GOOD.
April 26: "Isis faces exodus of foreign fighters as its 'caliphate' crumbles."
A new sheriff sweeps clean.
GOOD.


April 27: "Massachusetts Senator Elizabeth Warren gently criticized former president Barack Obama Thursday for his decision to accept $400,000 from a Wall Street firm to speak at a health care conference this fall."
Hillary has the sadz. They only paid her $250,000 per performance.
EVIL.

April 28: "Ohio Gov. John Kasich, a former Republican presidential candidate, said Friday that President Trump ought to 'eradicate' North Korean leader Kim Jong Un and his top lieutenants in a surgical military strike designed to give rise to a more benign leadership in Pyongyang."
Hillary wasn't the only bullet we dodged in 2016.
EVIL.
April 29: "Baltimore prosecutors told to consider consequences for prosecuting illegal immigrants for minor crimes."
Otherwise law-abiding people no longer have to obey laws in Baltimore, the wackiest city on Earth.
EVIL.

April 30: "Donald Trump on whether he could start war with North Korea: 'I don't know.  I mean, we'll see'."
Keep Rocket Man guessing.
GOOD.
April total: GOOD 20, EVIL 10.
…



May 1: "Trump unwinding Michelle Obama's school lunch program rules."
Trash cans starved as kids went back to eating lunch instead of throwing it away.
GOOD.

May 2: Hillary: "If the election had been on October 27, I would be your president."
Spent $1.2 billion on an election, and not one penny on a calendar.
GOOD.
May 3: "Barack and Michelle Obama on Wednesday offered the first look at the design of the planned Obama Presidential Center in Jackson Park — a campus of three buildings highlighted by an eye-catching museum, whose height and splaying walls would make a bold architectural statement. [SNIP] The library, though, will not contain Obama's paper records."
It will be a presidential library without a book. How fitting.
EVIL.


May 4: "Apple CEO Tim Cook said that his company will start a $1 billion fund to promote advanced manufacturing jobs in the United States."
Those jobs ain't coming back.
GOOD.

May 5: "Unemployment rate drops to lowest level in a decade in April as economy adds 211,000 jobs."
4.4%.
Those jobs ain't coming back.
GOOD.
May 6: "Just 26% of Likely U.S. Voters say they trust most political polls."
26% trust the polls? I don't believe the number is that high.
GOOD.

May 7: "The Complete Works: Ranking All 374 Rolling Stones Songs."
Number One? Donald Trump's campaign theme song, "You Can't Always Get What You Want."
You get what you need.
GOOD.

May 8: "First-quarter earnings are on pace to increase 13.5% from the same period a year earlier, according to FactSet. That would be the third consecutive quarter of year-over-year growth and the quickest pace since the third quarter of 2011, when earnings increased 16.7%."
Stock prices up, unemployment down, earnings up.
Eleven months earlier, Obama said, "He just says, 'Well, I'm going to negotiate a better deal.' Well, what, how exactly are you going to negotiate that? What magic wand do you have? And usually the answer is, he doesn't have an answer."
It's a MAGA wand, honey.
GOOD.

May 9: "President Trump has dismissed the director of the F.B.I., James B. Comey, on the recommendation of Attorney General Jeff Sessions, the White House spokesman, Sean Spicer, said Tuesday."
One Creature from the Black Lagoon down, 411,671 to go.
GOOD.

May 10: "Health insurance company Aetna will completely exit the ObamaCare exchanges in 2018."
They elected a community organizer to design a plan to regulate a $3.2 trillion industry. Thank you, 69,498,516 morons.
GOOD.
 May 11: "Former Democratic Rep. Corrine Brown was found guilty on 18 fraud and tax evasion charges Thursday afternoon in a Jacksonville federal court."
The prosecutor said, "Congresswoman Brown and her chief of staff are alleged to have used the congresswoman's official position to solicit over $800,000 in donations to a supposed charitable organization, only to use that organization as a personal slush fund."
Taking bribes in the name of a fake charity — just who does she think she is?
Hillary Clinton?
EVIL.

May 12: "New applications for U.S. jobless benefits unexpectedly fell last week and the number of Americans on unemployment rolls hit a 28-1/2-year low, pointing to a rapidly tightening labor market that could encourage the Federal Reserve to raise interest rates in June."
Lowest since Reagan was president. There we go again.
GOOD.
May 13: "Trump: 'In America We Do Not Worship Government, We Worship God'."
That sound you heard was liberal heads exploding.
GOOD.

May 14:
More than two years after the state's unprecedented oil bonanza fizzled to a lull, North Dakota — the nation's No. 2 oil producer behind Texas — is experiencing a sort of boomlet that has pushed daily production back above 1 million barrels daily.
"There is a long-term optimism that was not here just a year ago," said Williston Republican Sen. Brad Bekkedahl, whose western North Dakota district is in the epicenter of the state's oil-producing region.
Trump approved two oil pipeline projects with his MAGA wand.
GOOD.

May 15: "President Trump revealed highly classified information to the Russian foreign minister and ambassador in a White House meeting last week, according to current and former U.S. officials."
Yes, it was information on defeating the Islamic State, which six months later was 5% of its size under Obama.
GOOD.
May 16: "Michael Moore, Harvey Weinstein to Reteam on Trump Doc 'Fahrenheit 11/9'."
Weinstein hired Michael Moore? That casting couch must be made of iron.
EVIL.

May 17: "Republicans in Congress fear President Trump could torpedo their majorities if he doesn't save his White House from constant crisis and pivot to the issues voters elected him to deal with."
Like building a wall, repealing Obamacare, and all those other things Republicans in Congress did not do.
EVIL.

May 18: "The Justice Department announced Wednesday that a law enforcement task force has taken out MS-13 leadership in Los Angeles."
Bu-bu-but they are DREAMers brought here when they were little tiny baby thugs.
GOOD.

May 19: "Trump economic 'uncertainty' worse than '08 financial crisis levels, index shows."
In 2016, the polls lied. In 2017, the index lied.
EVIL.

May 20: "'Penises Cause Climate Change'; Progressives Fooled by Peer-Reviewed Hoax Study."
The story was by James DelingPOLE.
GOOD.
May 21: "Trump joins ceremonial sword dance in Saudi Arabia – video."
Hava Nagila.
GOOD.
May 22: President Trump and his family become the first to fly directly from Riyadh to Israel in Air Force One.
The ballgame has changed when Donald Trump became the leader of the free world.
First Lady Melania holding hands with Nechama Rivlin on Monday.
Rivlin walks slowly with an oxygen tank. Beauty is only skin deep. Our first lady's beauty radiates from inside.
GOOD.
May 23: "Goodbye ISIS, Hello Losers."
Ah, Scott Adams. He wrote, "President Trump just gave ISIS its new name: Losers. (Short for Evil Losers). If you think that's no big deal, you're wrong. It's a big deal. This is – literally – weapons-grade persuasion from the most powerful Master Persuader of our time."
Six months later, the Islamic State was a shriveled banana peel. Who wants to be a loser?
GOOD.
May 24: "Al Franken, comedian-turned-senator, takes on Donald Trump, TV-star-turned-president."
Six months later, Trump got the last laugh.
EVIL.

May 25: "In April, real median household income reached $59,361, according to the latest report from Sentier Research. That's up 2% since January, and is as high as it's been since February 2002. Expressed as an index, median household income was 100.9 in April, which is the first time this index has topped 100 since December 2008."
Best in 16 years.
GOOD.
May 26: The father of Marcellus shale retired.
Terry Engelder's discovery helped make the world safer as the oil and natural gas from Marcellus liberates us from oil tyrants.
GOOD.


May 27: "Former Navy SEAL to Katy Perry: 'Hold One of Your Concerts in Syria and See How That Goes'."
The ex-Navy SEAL was responding to Perry's recent interview Tuesday on the Elvis Duran and the Morning Show in which the singer made a plea for people to "co-exist" and to remove "barriers" and "borders" after the Manchester, U.K. Islamic terrorist attack that took the lives of at least 22 people, many of them children, and wounded at least 59 more.
Sadly, Muslim terrorists are turning England into Syria.
EVIL.

May 28: "Hillary Clinton for 2020 'not a good question,' says Rahm Emanuel."
It wasn't a good answer for 2016.
GOOD.

May 29:
He was clear, concise and disciplined. Those were the key ingredients that created a striking success for President Trump in his first foreign trip.
If he can bottle that recipe and start each day in the Oval Office with a big gulp of it, his presidency gets a renewed chance to live up to its promises.
Trump's clarity on the global stage was a reminder of why he was elected. Much as he did in the campaign on his best days, he cut through the BS to get to the heart of contentious issues and offer forceful solutions.
Well, for once he was dealing with adults instead of Congress and the U.S. media. He had to up his game.
GOOD.
May 30: "Photographer defends his picture of Kathy Griffin holding decapitated Trump head."
You knew then what would happen next.
EVIL.

May 31: "Kathy Griffin Fired by CNN Over Gruesome Photo of Trump."
Oh my, it was a very good year and we had not even made it to June.
GOOD.
May total: GOOD 23, EVIL 8.
Don Surber is a renowned retired newspaperman and columnist of forty years experience living in Poca, West Virginia. In July, he published Trump the Press on Amazon, a look at how the experts got the Republican nomination wrong. It is available on Kindle, and in paperback.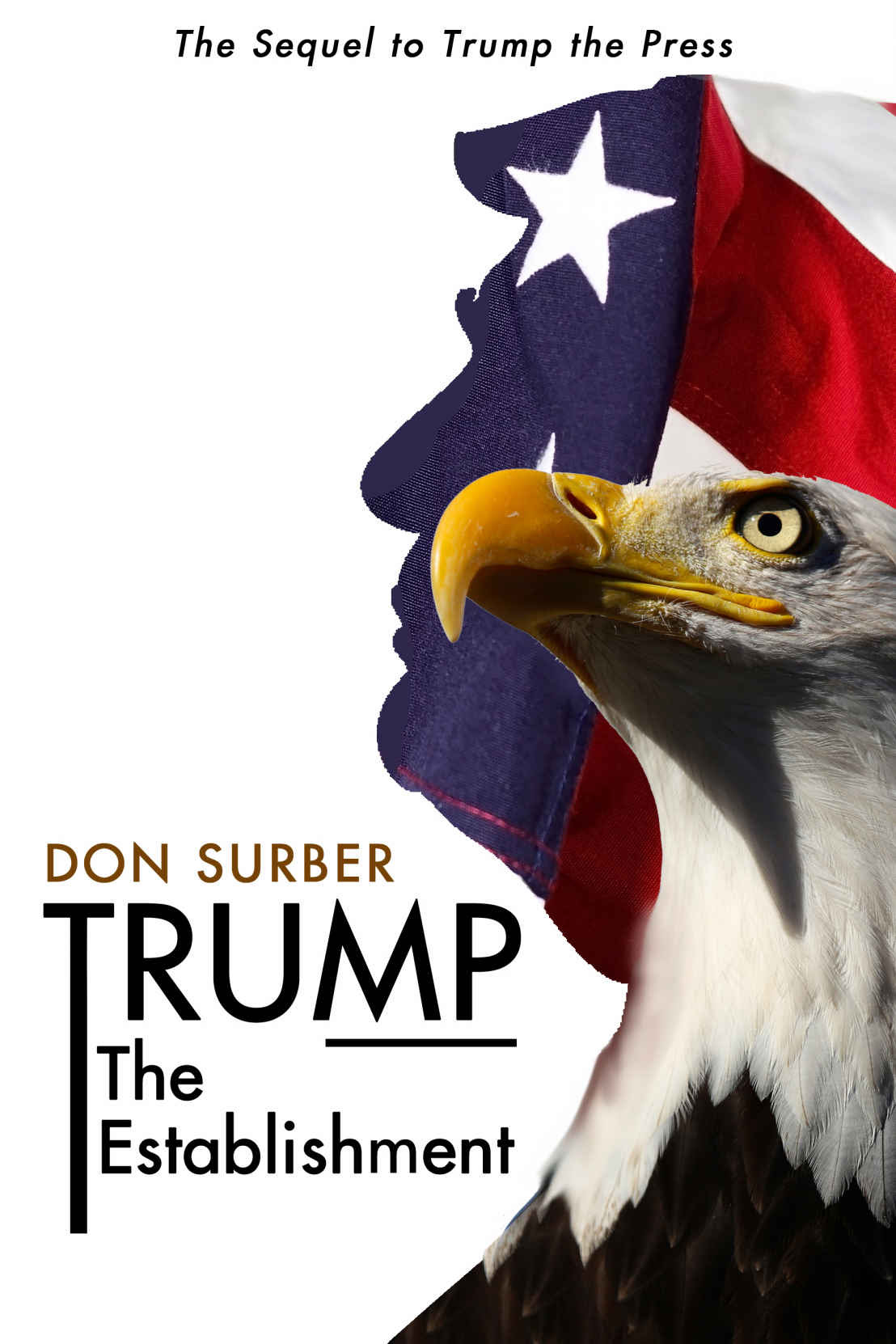 His bestselling new book, Trump The Establishment is a stirring sequel covering the election. It is also available on Kindle, and in paperback.
Caution: Readers occasionally may laugh out loud at the media as they read these books.  I know I did! Lots.
You can also follow him on Twitter 
And friend him on Facebook.