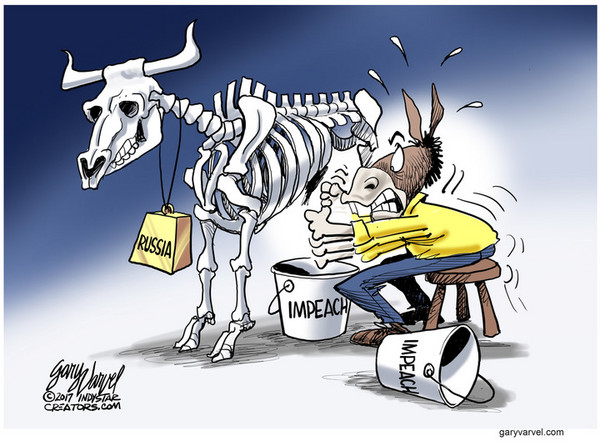 By the very talented Gary Varvel…see more of his work at Gary Varvel.com
Ah, the plight of the poor Democrats,still hoping to get milk from a dead cow. All the lies, faux indignation and insults as well as the time and money spent have resulted in…absolutely nothing. Except an increased reaization by most Americans that the Democrats and their media aren't to be trusted on e bit.
There actually is an impeachment bill circulating among the Democrats right now, based on a twisted and totally inaccurate reading of the 25th Amendment, originally designed to allow removal of a president if he was incapacitated and unable to perform his duties.
25 House Democrats have signed on to it, with the bill being sponsored by a radical leftist congressman Jamie Raskin (D-MD) and con-sponsored by – wait for it- disgraced former DNC head Debbie Wasserman Schults(D-FL) and the serially corrupt John Conyers (D-MI).
Raskin is pretty vague on the constitutional grounds for this and he and his pals are totally clueless about what the public reaction would be, but are going ahead anyway.
Pathetic.
Rob Miller writes for Joshuapundit. His articles have appeared in The Jerusalem Post, The Washington Examiner, American Thinker, The Los Angeles Times, The Atlanta Journal-Constitution, The San Francisco Chronicle, Real Clear Politics, The Times Of Israel, Breitbart.Com and other publications.